For nye receipes!
'Veggie Driller' lar deg lage en rekke deilige oppskrifter!

Start med å uthule grønnsaker du vil, med mulighet for å bruke den gjenværende bitene for andre oppskrifter. Når du har funnet ut hvordan å bruke det, håndtering vår vegetabilsk digger vil være så enkelt som å lage en salat!

Dermed, 'Veggie Driller' er i stand til å følge deg på piknik eller måltider ut av ditt hjem. 'Veggie Driller' leveres med 4 utskiftbare bore hoder. Nå kan du ta ut alle typer frukt og grønnsaker, fra tynn gulrøtter til de som er på størrelse med en aubergine.

Du trenger ikke å bekymre deg om å fylle opp kjøkkenet ditt med annen redskap. Dette verktøyet er liten nok til å ta opp lite plass som kan passe i en skuff med resten av kjøkkenet essentials. Det er også egnet for rengjøring i oppvaskmaskin, noe som gjør det svært lett å rengjøre!
Det er så enkelt å bruke at selv små barn kan bruke det!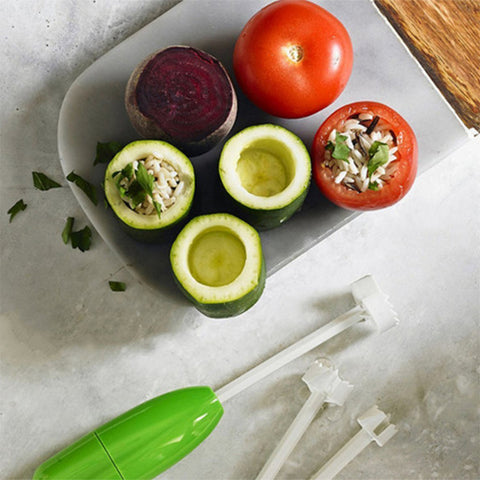 Hovedfunksjonen

Laget av høy kvalitet, ikke-giftig, og holdbare ABS-bremser, lett å bruke, lett å rengjøre, og lang levetid.

Komfortabel non-slip håndtak. Etter å kutte frukt og grønnsaker, åpne behandling tank hjelper deg med å fjerne kjernen fra frukt og kast unødvendig core for praktisk disposisjon.

Multifunksjonelle: Ikke bare kan brukes som en corer for frukt og grønnsaker, men også som en spiral kutter for å lage rettene mer iøynefallende.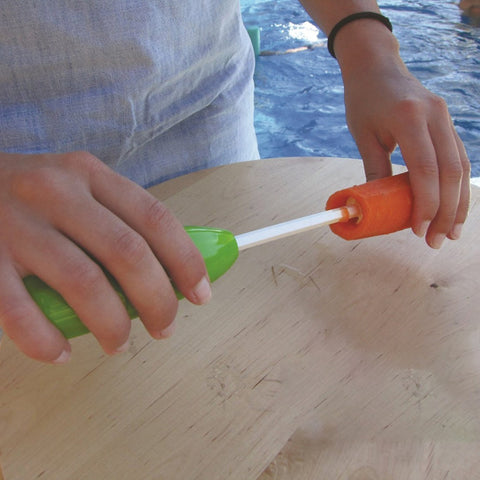 Spesifikasjoner

Materiale: ABS
Farge: grønn
Vekt: 50G
Størrelse: som bildet nedenfor viser
Pakken: 1 x Veggie Driller (4 boring diameter)
SECURE PAYMENT
We protect your data with SSL security
Free Shipping for 75$ and up
Take advantage of free shipping everywhere in the US
Track Your Order
All orders come with a tracking number, so you can always track your order
24/7 Customer Service
Our customer service is there for you 7 days a week!