Practical Tool for Cleaning your Toilet!
The FreshBrush Silicone Toilet Brush is your everyday practical tool for cleaning your toilet conveniently. 🚽
The brush has an innovative D-shaped flexible silicone head that reaches all the difficult places on your toilet and eliminates all dirt and germs. 🧼
Plus, save time and energy as the brush makes the toilet cleaning process effortless and hassle-free!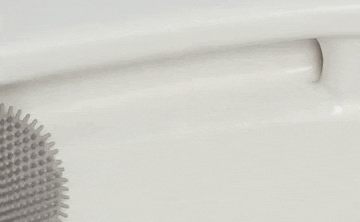 Super-Efficient Scrubbing
This toilet brush has a revolutionary design that enables super-efficient and hassle-free toilet cleaning, so you don't have to worry about spending an hour cleaning your toilet every day.
Cleans all Hard-to-Reach Places
Its unique D-shaped silicone head ensures every nook and cranny of your toilet is spotless. The toilet brush can bend easily and remove dirt from all difficult places, under the toilet grooves and even below the rim.
Water and Dirt-Resistant Silicone 
This toilet brush is made from durable, water and dirt-resistant silicone that can be easily cleaned by a simple rinse. Say goodbye to dirty, stained, and clogged toilet brushes!
Anti-Clogging Bristles
This one-of-a-kind silicone toilet brush has innovative anti-clogging bristles that are widely spaced to ensure no dirt gets trapped and can be easily washed away. Plus, the brush doesn't fling dirt back at you while you try to unclog its bristles.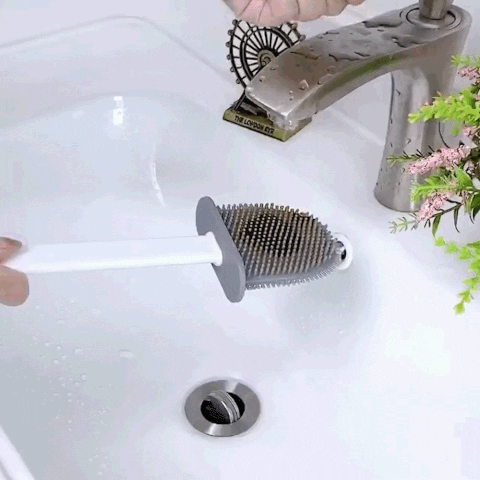 Slim and Compact Holder
This toilet brush has its own slim and compact holder for storing the brush. With practical ventilation slots, the brush dries quickly. It takes very little space and can be hanged on the wall or put on the ground for a neat and clean experience.
Brush Specifications:
Color:

White

Materials:

Silicone, plastic

Size:

14.4 x 4.1 x 1.8 inches
So, what are you waiting for?
Get this practical silicone toilet brush and have a spotless toilet every day! 🧼🚽
SECURE PAYMENT
We protect your data with SSL security
Free Shipping for 75$ and up
Take advantage of free shipping everywhere in the US
Track Your Order
All orders come with a tracking number, so you can always track your order
24/7 Customer Service
Our customer service is there for you 7 days a week!