reloj ejecutivo de lujo para hombres, cronógrafo de cuero, deportivo, luminoso, de cuarzo, a la moda, nuevo💎
Funciones:
**Reloj deportivo de cronometraje de seis agujas
**Hebilla de acero inoxidable
**Movimiento: Movimiento de cuarzo del módulo de tiempo (hecho en Japón)
** Material del espejo: Hardlex
IMPERMEABLE: LAVADO DE MANOS, NATACIÓN, NO HAY PROBLEMA! Perfecto para todo tipo de negocios, actividades informales, en interiores o de uso diario. NOTA: Por favor, NO presione ningún botón en el agua ni use este reloj para actividades submarinas de larga data, como buceo, etc.
Garantía de movimiento de 6 meses

Características técnicas:
Diámetro del dial: 45 mm
Grosor de la caja: 14 mm
Longitud del reloj: 23cm
Ancho de banda: 24 mm
Resistencia al agua: 3Bar
               preguntas frecuentes
          ¿Cuándo recibiré mi pedido?
Nuestro objetivo es asegurarnos que reciba su pedido lo mas rápido posible. Una vez que su pedido ah sido recibido correctamente, el almacén procesa su pedido, en un plazo de 24 a 48hrs. A continuación es recogido, embalado y despachado. El tiempo de entrega debido a la gran demanda de promoción la espera puede ser de 2-3 semanas para que su pedido llegue a la puerta de su casa.
      ¿Cómo puedo rastrear mi pedido?
Después que su pedido ah sido procesado en nuestro almacén, recibirá un correo electrónico que contiene la información de seguimiento de su paquete, Incluirá instrucciones y un enlace para web para ver siempre el estado de su pedido.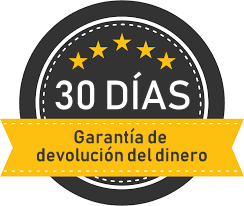 SECURE PAYMENT
We protect your data with SSL security
Free Shipping for 75$ and up
Take advantage of free shipping everywhere in the US
Track Your Order
All orders come with a tracking number, so you can always track your order
24/7 Customer Service
Our customer service is there for you 7 days a week!