Rapid growth of gray hair can be caused by aging, stress, heredity, etc. This Organic Darkening Shampoo Bar targets and resolves the problem from the root by providing massive keratin to nourish damaged hair follicles, help to get rid of annoying gray hair caused by any reasons.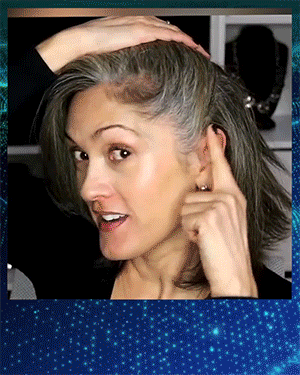 Instantly restore your natural hair color, from the gray hair to a vivid dark color, regain your confidence back by looking and feeling younger again with the all-new Hair Darkening Shampoo Bar

It naturally restores pigment cells, while conditioning with 100 % organic herbs which are non- toxic & chemical-free. Safer compare to any traditional shampoo while bringing you a shiny & vivid hair look.
The main ingredient Polygonum has the ability to reactivate Melanocytes – pigment-producing cells in hair follicles, which promotes blood circulation of the scalps, which stimulates hair growth, resulting in improved hair growth in just a couple of weeks!
🌿FEATURES🌿
Restores Natural Hair Color☘️
Apply as your everyday normal shampoo bar and see the transformation of your gray or white hair to a young and vivid dark color again.
Promotes hair growth & prevent lost☘️
Effectively prevents hair loss by promoting blood circulation of the scalp, stimulating the growth of hair follicles and binding the hair roots onto the scalp within 2 weeks while it moisturizes and repairs hair damage.
Anti-Dandruff, Improve scalp itching problem☘️
Moisturize and repair damaged hair☘️
It contains precious herbs like fallopian multiflora to reactive hait pigment cells melanocytes, and ginger with natural anti-inflammatory and antiseptic properties which keeps the scalp healthy
It does not contain harmful content and chemicals.
Shampoo bars offer a low carbon footprint!☘️
It's no secret that products from the skin care and hair care industries have been detrimental to the environment. Everything from infamous microbeads to excess packaging have taken their toll.Making the switch from a shampoo bottle to a shampoo bar has numerous benefits. You're not only doing your part to protect the environment, you're also making life much easier for yourself.
☘️ PRODUCT FEATURES ☘️
✅ Reactivate hair pigment cells.
✅ Promote hair growth & prevent lost.
✅ Anti-Dandruff, Improve scalp itching problem.
✅ Moisturize and repair damaged hair.
✅ 100% organic & handmade.
✅ Suitable for All Hair Types.
✅ Gentle on Scalp.
SPECIFICATION
Size: 5.8 x 5.8 x 2.3 cm

Ingredients: Polygonum multi florum,  Panax ginseng, glycerine Butyrospermum parkii, Olea europaea, water, sodium palm oil.
SECURE PAYMENT
We protect your data with SSL security
Free Shipping for 75$ and up
Take advantage of free shipping everywhere in the US
Track Your Order
All orders come with a tracking number, so you can always track your order
24/7 Customer Service
Our customer service is there for you 7 days a week!