🍔 HOMEMADE BURGERS ARE ALWAYS MINUTES AWAY 🍔

Designed to make homemade burgers easier than ever, the Burger Master goes beyond the single burger press by instantly shaping and storing a batch of eight burger patties. Simply fill your favourit burger recipe into the bottom tray and seal the lid to shape eight perfectly uniform quarter pound patties ready for stuffing, grilling, chilling, or storing in the freezer. The burgers will effortlessly pop out of the non-stick tray - even when frozen! So fire up your BBQ because your burgers are ready to grill!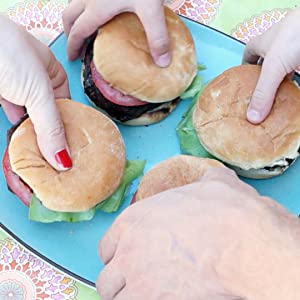 Features:
Press and stuffs up to 3 or 5 quarter-pound burger patties at a time (each container holds approx. 2 pounds).
Easily pop frozen burger patties directly onto the barbecue.
Individually seals each burger patty to prevent freezer burn and/or sticking to each other.
Stacks easily in the freezer, fridge or cooler so burgers are ready to grill when you are!
Dishwasher Safe.
Patented Technology.

Package Includes:
1 x Innovative Burger Press
SECURE PAYMENT
We protect your data with SSL security
Free Shipping for 75$ and up
Take advantage of free shipping everywhere in the US
Track Your Order
All orders come with a tracking number, so you can always track your order
24/7 Customer Service
Our customer service is there for you 7 days a week!