FATHER'S DAY SALE:
 60% Off Promotion Ends Today!
The Easiest Way To Water Individual Plants All At Once!
It also makes a great addition to any outdoor area to cool down during the hot Summer months.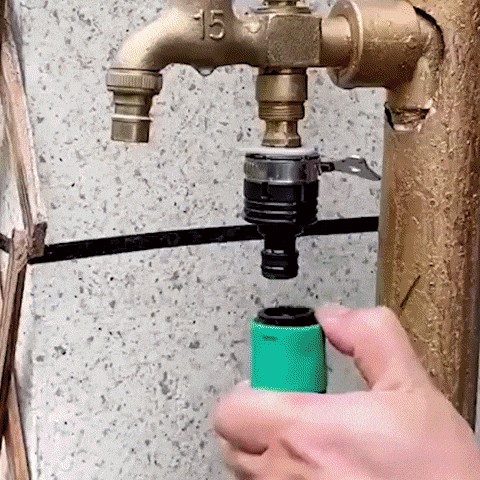 Water plants effortlessly or keep cool on your patio this Summer with the fully adjustable Garden Misting System. Connect it to any outdoor nozzle or hose and run it around or over your desired area, a misting head can be connected and adjusted at any point throughout the system with a twisting head that increases or decreases the amount of mist released to ensure your plants are receiving the right amount of moisture!
FEATURES:
Pre-programmed watering cycles allow you to water your plants while at work, away on a trip, or out of town.
Individual nozzle customization allows you to specifically set the water requirements for each plant, making sure they aren't over or under-watered.
Water your plants for as long as they individually require, saving you up to 70% of wasted water per year.
Ideal for gardens, trees, hanging baskets, and bushes. Also useful for misting patio sets, trampolines, greenhouses, and sunrooms.
No landscaping skill requires, the easy installation allows you to set this up in seconds without any plumbing or digging skills required.




HOW TO USE:

1. Cut the water tubing according to the length you need.
2. Attach the tee with the atomizing nozzle.
3. Attach an end closure when you finish installing the nozzles that you need.
4. Attach the pipe to the tubing quick connector with a tee.
5. Attach the tubing quick connector with the universal connector.
6. Attach the system to your faucet and place the finished spray line in the desired area




SPECIFICATIONS:
Material: PP+POM
Working Pressure: 1.0-2.5kg
Flow Rate: 0-8L/h
Inner Diameter: 6mm
Hose Length: 5m / 10m / 15m / 20m
Spray Diameter Approx: 60cm Adjustable
PACKAGE INCLUDES:

5/10/15/20 × Atomizing Nozzle (Optional)
1 × 4/7 Hose (5m/10m/15m/20m) (Optional)
5/10/15/20 × Hose Connector (Optional)
1 × Quick Connector
1 × Faucet Connector
1 × 4/7 Hose Stopper



SECURE PAYMENT
We protect your data with SSL security
Free Shipping for 75$ and up
Take advantage of free shipping everywhere in the US
Track Your Order
All orders come with a tracking number, so you can always track your order
24/7 Customer Service
Our customer service is there for you 7 days a week!