LAST DAY PROMOTION:
50% Off Sale Ends Today!
Enjoy A Bubbly Summer With Your Kids!

Blast a stream of bubbles to the moon
with the powerful Bubble Bazooka. The bazooka
fires hundreds of bubbles per second,
giving your child an exciting outdoor activity that they will never get sick of.
Thousands Of Bubbles Per Second/
LED Rainbow Nozzle
Suitable For All Ages
Easy To Use, Lightweight
Best Gift For Kids
Encourage Outdoor Activity
Rechargeable, 6-Hour Battery
Including a small handle,
it's suitable and fun for all ages.
Perfect for birthdays, the beach, the backyard, or any event. It's the ultimate gift to
get them off their iPads and out in the sunshine!
Each gun has an LED colorful light on the end, giving the bubbles a rainbow-like appearance in the dark.

Multiple operations are available, you can hold the gusset continuously, or press the gusset intermittently.

How To Use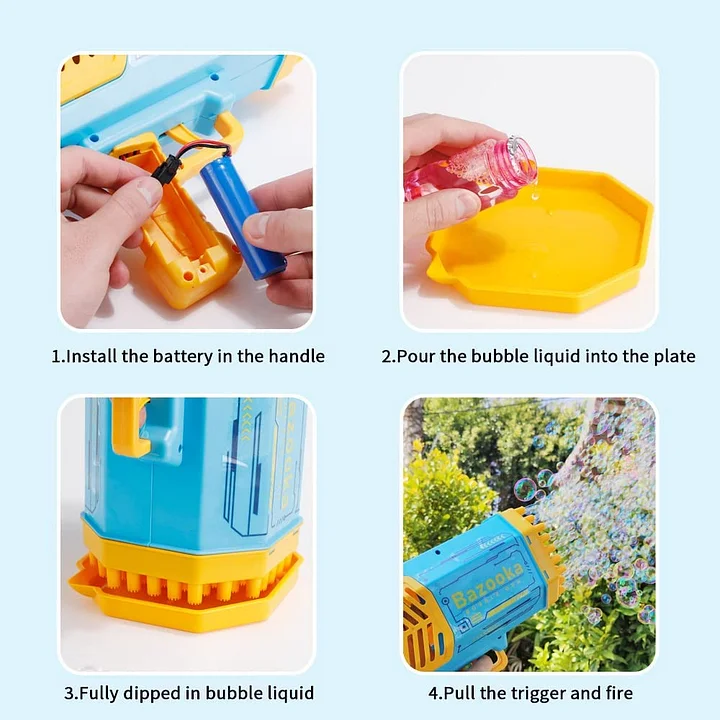 Package Contents



1* Bubble Bazooka
1* Bubble Liquid (130ml)
1* Bubble Tray
1* Lithium Rechargeable Battery
1* Charging Cable
SECURE PAYMENT
We protect your data with SSL security
Free Shipping for 75$ and up
Take advantage of free shipping everywhere in the US
Track Your Order
All orders come with a tracking number, so you can always track your order
24/7 Customer Service
Our customer service is there for you 7 days a week!